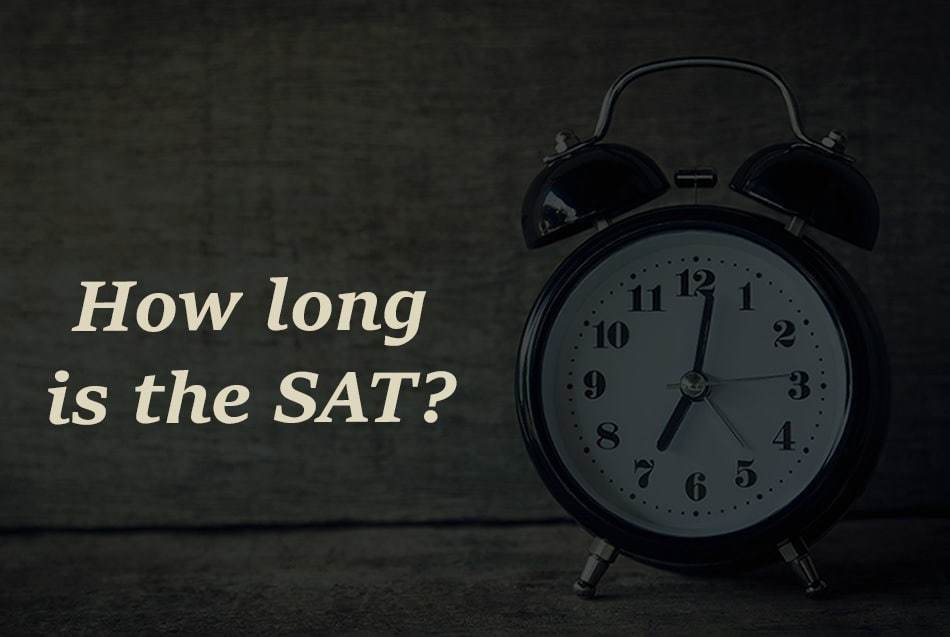 How Long Is The SAT? – Guest Post
How long is the SAT? It's good to plan ahead and make an itinerary for one of the most important days of your career. Being prepared for the SAT is a huge factor in passing the test, but pacing your test and using SAT breaks to your advantage could also help.
If you're already well-prepared from all the SAT prep books you've studied, this guide will ensure that your studying wouldn't be in vain. By learning how to save enough time to answer each section, use breaks wisely and pace yourself properly, you'd be surprised how the SAT will be over before you know it.
How Long Is the SAT?
The SAT isn't a quick exam. That's why many would-be takers prepare months before with SAT preparation courses and practice exams.
You may receive varying answers when you ask "how long does the sat take" and that's perfectly okay. The College Board gives you around 3 hours to complete your SAT, plus around 15 minutes of break time.
The SAT test time will also vary between examinees if they're going to take the essay or not. If you include the allowed breaks into the mix:
how long is the sat with essay comes out at 3 hours and 50 minutes
how long is the sat without essay ends up at exactly 3 hours
Note that the essay is optional and you'll need to pay an extra $17 every time you take it. You also only need one essay saved in your file. About 25 colleges and universities currently require the SAT essay, but your essay score will be included in the SAT score report to all the schools you apply to, even if the school requires this essay or not.
SAT Test Length by Section
If we really break down SAT length, the question "how long is each section of the SAT" must first be addressed. This will also give you the amount of time you should be able to answer each of the 154 questions.
The exam has three major sections (reading, writing & language, math), but it is divided into 5 (some 6) parts. They include:
| | | |
| --- | --- | --- |
| | | |
| | | |
| Math (with no calculator) | | |
| | | |
| Optional experimental "section 5" | | experimental questions and pretest items |
| | | |
You see, the given time per section would allow you to pace yourself and allocate enough time to answer questions as correctly as possible.
For example, you must allot around 1 minute and 15 seconds (that's 75 seconds) for every question from the first part to be able to complete the Reading section. For the Writing & Language section, this means you only have 48 seconds per question. Both math sections give you around 75 to 85 seconds to answer every question.
How Many Breaks Are There During the SAT?
As you just learned, the SAT can be pretty grueling. This is why examinees are grateful for any break in between sections that they can get.
How long is the SAT with breaks? The breaks are not that long: they total 15 to 17 minutes, depending on whether you'll be taking the essay or not.
Expect the breaks to be inserted between sections. Here is the exact order of SAT sections and breaks allotted in minutes:
1. Reading section - 65 minutes
2. 1st Break - 10 minutes
3. Writing & Language - 35 minutes
4. Math No Calculator - 25 minutes
5. 2nd Break - 5 minutes
6. Math with Calculator - 55 minutes
If you are not going to take the essay, your SAT ends here. However, if you plan on taking the essay, you'll continue with:
7. 3rd Break - 2 minutes
8. Optional essay section - 50 minutes
As you may have guessed, the first (10-minute) break and second (5-minute) break are enough to let you use the restroom, eat a granola bar, drink water, leave the room, take a call, etc.
The third (2-minute) break leaves not much time to do anything except to stretch. You cannot go out of the room anymore for that final break.
When Does the SAT Start?
Aside from learning how long is the SAT exam, how much break time you are given, and how long you could answer each question, you should also be prepared on what to expect on the day of the SAT.
What time should you leave the house? Are you commuting on the way to the testing center? How much time should you allot for getting ready, eating breakfast, and transportation? The answer to these questions vary from one person to the next.
However, since the SAT test centers open their doors at 7:45 on test day and closes its doors exactly at 8 am, it means you should adjust your alarm clock based on your morning routine, travel time, and so on.
Be on time. There is only a 15-minute window for the testing center doors to let examinees in. Once this door closes, you miss your chance to take the SAT for the day.
Inside, the proctor will collect your smartphones, tablets, bags, and other things. Only your SAT-approved calculator will be allowed on your table. Once everyone is checked in, seated properly and ready to start the exam, the proctor would then read instructions while distributing test papers.
In general, the SAT starts between 8:30 and 9:00 am.
How Do I Know How Much Time I Have Left?
How long is the SAT test? How do you know how much time you have left during the exam?
There are two ways you can be on top of the time you have left while taking the SAT:
1. Listen to the proctor's announcements. Be alert with whatever the proctor has to say - there's a good chance he/she is helping you manage your time answering the SAT. The proctor will announce remaining time at different sections, usually halfway during every section and a warning that the last 5 minutes of a section remains.
The SAT proctor will list the exact start time and end time of each section, including the time between breaks.
Once time is up for each section, the proctor will tell everyone to "put their pencils down" and stop writing.
2. Memorize the chart above and time yourself.
The time allotted for each section will not change. If you ask a friend how long is the SAT test they took last month, the answer will always be between 3 hours and 4 hours.
Because the amount of time to finish the SATs is fixed, you can memorize the section length in minutes and be wary of the time yourself.
Do note that it isn't allowed to bring hourglasses, stopwatches, smartphones with timer apps, and other gadgets that beep as an alarm. You can only use analog watches and be on top of the remaining times at each section.
Why Was There a 5th Section On the SAT?
The 5th section of the SAT is another factor that could cause confusion about how long does SAT take in actual.
This is because this fifth section involves an extra 20-minute section. In 2016, only students who are not taking the essays are given SATs with this additional section, but by 2019, mostly everyone who takes the SAT will receive an extra 20-minute time in order to answer pre-testing items.
"Pretest items" or experimental section consists of new questions, which the College Board plans to include for future SAT exams. They use the results from these pretested examinees as a way to ensure the questions are fair, adequate, and ready to be officially included in SAT exams.
Here are 5 important things you must know about this "section 5" of the SAT:
The pretest items can be squeezed into any section. You may not even know that you're answering a pretest item.
Pretest items do not add to your overall scores, so whether you answer these questions correctly or incorrectly, it wouldn't matter in the grand scheme of things.
Some students will not receive a test paper with experimental questions.
Having pre-test items will change the number of questions and allotted time per question listed for every section. If you memorized the charts above, you might get a clue if you received a test paper with experimental items.
Because it is possible that you will have a different exam than the person sitting next to you, this fifth section could be used to find or catch cheaters.
The College Board may be vague about this fifth section, but answering all questions (whether you may feel that some are experimental ones or not) means you'll be helping out future SAT-takers.
When Is the SAT Over?
With the start time of SATs around 9 am and the entire test ranging from 3 hours to slightly over 4 hours, you can expect to finish the test more or less around lunch time. Of course, this will vary depending on 3 things:
If you're going to take the SAT without an essay... you'd be finished with the exam by 12:15 to 12:45pm
If you're going to take the SAT with an essay... expect to complete the exam by 1pm to 1:30pm
If your test paper includes section 5, add extra 20 minutes to determine what time you'd be getting out of the testing center.
This can still change, depending on test center protocols, the proctor assigned to your testing day, setup time allocated at the beginning of the exam, or even the occurrence of emergencies. Sometimes, checking the calculators or the process of taking away electronic devices could take longer, which means the starting time may change and everything else on would follow.
The proctor would also return these devices at the end of the exam, which could still take an extra 5 to 15 minutes.
Other Time Factors
The College Board has "special accommodations," which are special requests made several weeks prior to the SAT test date. If approved, some of these accommodations could affect the length of your SAT test.
For example:
Extra breaks - Students who are diabetic may require additional time to eat heavier meals. Same as those who need to take medication.
Extended testing time - These requests are ideal for students with ADHD, non-English speaking students, or those who write slowly due to disability or accidents.
Other accommodations to extend the testing time and break time are available. Do note that these requests may take several weeks to get approved. As such, you have to space out your accommodation requests a month or two earlier than the testing date.
Some requests may completely be denied, especially if the eligibility is not met. There simply is no going around this.
In addition, be informed about all the things you need to bring for SAT on test day, so you can avoid delays as much as possible. Must-bring include a valid ID, up-to-date admission ticket, an SAT-approved calculator, and two No.2 pencils with erasers. Bring snacks and drinks for your break.
And if you're taking the SAT in the midst of the 2020 covid19 pandemic, you'll need face covering to enter test centers as well.
Tips for SAT Pacing
When weighing how long is the SAT going to be, your best technique is to pace yourself.
Most students who already took the SAT (and other standardized tests like the SAT) recommend spending more time on the hard ones.
But it may not be as simple as it sounds. Instead, follow these 5 guidelines when SAT pacing:
Slow Down to Score More
This isn't a race. You won't be scored by the number of SAT questions you're able to answer, but the actual number of questions you were able to answer CORRECTLY. Aim to slow down answering, skip questions you don't know the answer to, and go back to them once you've reached the end of a section. This method results in a better score than quickly answering all questions as you go.
Practice to Get a Feel of Allocated Time
Now that you know the allotted time for each section, use this information to time yourself when doing practice tests. If you can take several practice tests before the actual SAT, you'd be able to gauge how long 5, 25, or 50 minutes actually is.
You can even practice answering questions with only the amount of time given per section. For example, 75 seconds per question throughout the Reading section.
By the time of the SAT test day, you already know what to expect.
Don't Lose Focus with Tough Questions
It will happen - you'll face a difficult question and it will put your streak off balance. Don't lose focus on time-consuming or hard questions. Skip it first and go back to it later when you're done with everything else.
If you still cannot answer the question and you're running out of time, guess the answer (it's multiple-choice) and move onto the next section.
Tackle the SAT by section
The best advice for students taking the SAT is to never leave any question unanswered. Except for the essay section, the entire SAT is a multiple-choice exam, so if you're unsure of the answer, guessing is still better than no answer.
Be familiar with each section, so you know how to deal with each of them.
In the Reading section, there will be 5 passages you need to read - one fiction from a novel or short story, two from a science material, and another two from history. If your weakness is science, skip that part and go back later. Only guess the answer if time is running out and if you really cannot
In the Writing section, you'll be faced with four passages, each with 11 questions. If you're planning to watch for the clock throughout your SAT, don't check your watch after every question (that would be a waste of time). Instead, check your remaining time after every passage instead.
For math, the calculator portion is obviously much harder since you're required to solve 38 questions using SAT-specific math strategies. The no-calculator portion, which only has 20 questions, would probably be easier. With these facts, determine which part you'd like to do first.
For those taking the essay, you need to budget your time reading through the passage, gathering your thoughts, actual writing, and proofreading your essay.
Being prepared will help you get good SAT scores.
Everyone knows this, that's why they spend months studying for the test. Unfortunately, not everyone bothers to learn what to expect and explore how much time to allot for every section.
We hope this guide gave you a better understanding of the actual SATs, and not just the topics that may pop out on the exam.