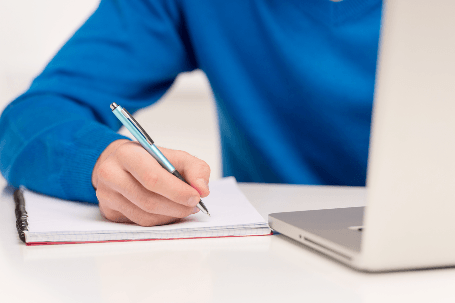 How to Write a Synthesis Essay AP Lang | Guide to Getting a Perfect Score
The AP Language and Composition exam is notoriously difficult. Even top, A+ language arts students have found it exceptionally challenging. 
Beyond diligently studying with a top-rated AP Lang review book, you should also carefully review our comprehensive guide on how to write a synthesis essay for AP Lang featured in this article.
Once you complete the supremely humbling hour-long multiple-choice section, making up only 45% of your score, the trial has only just begun. Now, already fatigued from the first section, you must begin the grueling, two-hour free response section of the exam, which accounts for a whopping 55% of your final exam score. This section requires you to compose three essays of distinct types: an argumentative essay, a rhetorical analysis essay ( you also need to learn how to use AP Lang rhetorical devices) and, the most dreaded of all, the synthesis essay.
Luckily, there are some great options to help you prepare to nail your synthesis essay. So, read on for everything you need to know to knock your synthesis essay out of the park!
How to Write Synthesis Essays AP Lang
One of the most challenging aspects of the AP synthesis essay is figuring out what the prompt is asking you to do. After all, what does it mean to "synthesize" something anyway? And what's the difference between a synthesis essay and an evidence-based argumentative essay?
In this guide, we'll answer these questions and a lot more. We'll help you establish a solid understanding of what synthesis is, how to do it, and how to use it to write a high-scoring essay, according to College Board's AP Language and Composition scoring guidelines. Lastly, we'll leave you with some advice about things to be sure and attend to in your essay, as well as the most important things to avoid. 
Introduction to Syntheses
Before we get into all the details and advice on how to write a quality synthesis essay, we first need to answer a critical question: what is a synthesis essay?
Simply put, a synthesis essay is a piece of writing that brings together information and ideas from two or more sources. 
The synthesis part comes in as you begin to develop connections between the sources, whether they are in agreement, disagreement, approach the same topic from different angles, or simply provide ideas on different topics that can in some way contribute some other discourse.
This, of course, is just a very basic introduction to what a synthesis essay is.
Throughout this article, the concept will surely become clearer to you.
Two Types of Syntheses
There are essentially two types of synthesis essay that you will run into: argumentative syntheses and explanatory syntheses. Luckily, you really only need to master one of them, the argumentative synthesis, as this is the most common expectation on AP exams.
Explanatory Synthesis
An explanatory synthesis essay is exactly what it sounds like. It the type of writing in which you will be asked to explain the arguments and information presented in your sources. You should also seek out connections and contrasting elements between the sources in order to give your essay a certain level of nuance and to display your deeper understanding and reasoning skills. 
Most of the time, AP Language and Composition exams won't focus on explanatory synthesis essays. However, it would be wise to use some explanatory techniques even within your argumentative synthesis essay.
Argumentative Synthesis
When someone asks, "what is a synthesis in writing?" they're typically referring to argumentative synthesis, and this is especially the case for the AP exam. 
At its most basic, an argumentative synthesis essay is on in which you must present your own opinions and support them with appropriate ideas and information from your sources. Most importantly, the thesis for your argumentative synthesis essay must be a proposition that can be debated. That is, there must be another potential argument against your own. 
Standards for Synthesis Essays
The people who will be scoring your AP Lang synthesis essay use a very clearly defined rubric to determine your score according to various criteria. Unfortunately, these prompt-specific rubrics are not available to the public until after the exams.
That said, we can still gain a wealth of useful information from past scoring guidelines.
Here are some of the elements of high-scoring essays that seem to be fairly constant from exam to exam, regardless of the essay prompt topic:
Supply useful context on the topic

Give a sense of why the topic is important

Engage with the complexity of the subject

Foreground your opinion on the topic

Offer thorough and thoughtful analysis of quotations, paraphrases, etc.

Synthesize source material by finding connections with your own ideas and opinions

Properly attributes ideas to sources

Conclude with more than just a summary by answering the "so what?" question
Techniques for Developing Synthesis Essays
Before you can start writing a quality synthesis essay, you need to spend some time developing your ideas and seeing how they do or do not relate to your source materials.
The following is a list of steps that you should always take before you start writing the bulk of your actual essay. These guidelines will be enormously helpful when it comes time to figure out what you want to say in your essay. If you read this carefully and take seriously these suggestions, you'll have no trouble coming up with interesting and complex ideas for your essay.
What's your purpose? Before you do anything, you need to determine what the prompt is asking you to do. Obviously, it's going to ask you to synthesize some stuff, but keep an eye out for these helpful guide words:
Defend

Qualify

Challenge

Judge

Assess

Infer

Compare/Contrast

Affirm

Argue

Respond
Read the source material; then, read it again to annotate. Once you've read through the sources once, go back and reach each one again, this time with a pencil to underline and add notes as you go.
Formulate your thesis statement. After reading and taking notes on your sources, you're ready to brainstorm your thesis statement. As you do this, try to keep track of potential aspects of each source that you can use to support your claim. 
Sketch an outline. When you have a thesis statement down (at least a tentative one—you should always be open to revising it as you go), you should sketch a simple outline that includes your thesis statement, supporting points that you can use for topic sentences, and a rough idea of how you will incorporate your sources. 
If you follow these steps closely, there's no doubt that you'll be ready to start writing what is sure to be a clever, thoughtful, and nuanced synthesis essay.
How to Write a Good Synthesis Essay?
Now that we know what a synthesis essay is, what AP exam scorers will be looking for in your essay, and what techniques you can use to develop your essay topic, it's time to look at some different strategies for how to actually write a synthesis essay in AP Lang.
As you go about the work of composing your essay, there are several approaches and strategies to can implement at different points in the essay.
None of these elements will be particularly effective in isolation, so be sure to use a variety of these strategies to enhance the complexity and depth of your argument.
Summarize. Summarizing ideas and source material is easy, and for that reason it is not going to do a whole lot in the way of getting you a great score. It is, however, an incredibly useful tool that, when used in conjunction with other strategies on this list, can be quite effective.

Compare and Contrast. This is typically the level of synthesis that most people start at after summarizing the content they are considering. It's not exactly "high-order" analysis, but it can be very useful in establishing the positions of your sources and creating a foundation on which you can present your own ideas and opinions.

Give an Example. A great way to show you understand a certain concept is to apply your understanding through an example. You can think of examples that illustrate the concepts you're dealing with as a way to clarify your topic and also to support your own arguments. 

"They Say, I Say." This is the classic, and possibly most effective, synthesis move. After you've presented a quotation or paraphrase of one or more sources' ideas, move on to explain your own position as it relates to theirs. It becomes much easier to state your own ideas and opinions when you do it within the context of the larger discussion of the topic.
Synthesis Essay Structure
One of the most sure-fire ways to earn a passing score on your synthesis essay is to ensure you structure it effectively. To do this well, it's a smart idea, prior to writing your essay, to sketch out a quick outline of the essay's structure. Your outline doesn't need to be especially detailed, but it will be tremendously helpful for you to have a general plan to work from.
Another good idea that will help you learn how to structure your essay is by looking at a synthesis example.
Helpfully, the College Board's AP Language and Composition exam site supplies several sample essays for you to get an idea of what good, average, and poor synthesis essays look like.
If you take some time to read these examples, you'll have a much better vision of what the scorers are looking for in terms of a well-structured synthesis essay.
That said, there is a very basic structure for synthesis essays that, if followed carefully, will guarantee that your essay is, at the very least, structured logically. This format is essentially the standard format for any basic five-paragraph essay. Take a look.
Basic Essay Structure
Introduction Paragraph

Give some BACKGROUND information and CONTEXT on the general topic of your essay.

Briefly introduce the SOURCES that you will be using.

Present your THESIS STATEMENT (this is usually the very last sentence of the paragraph).

Body Paragraph

Start with a TOPIC SENTENCE that supports your thesis statement.

Cite one or more SOURCES that support your topic sentence.

Provide COMMENTARY and ANALYSIS on the ideas you have just cited from your sources. 

Use a TRANSITION WORD or PHRASE to guide the reader logically toward the ideas you will present in the topic sentence of the next paragraph.

Body Paragraphs 2-?

Repeat the steps in the previous section with different topic sentences and source references, all of which must support your thesis statement. 

Include as many body paragraphs as you have points and topic sentences to justify. Typically, a good AP Lang synthesis essay will have around 3-4 well-constructed and reasoned body paragraphs, but this is just a general guideline.

Conclusion Paragraph

Restate your THESIS statement in a new and interesting way (that is, do not simply repeat your thesis word-for-word as it appears in the introduction!).

Tie it all together by briefly summarizing your main points.

Answer the "SO WHAT?" QUESTION by explaining why your argument matters and what the implications of it might be. Try to broaden your scope in order to show the reader how it fits in with the "big picture."
Synthesis Writing Dos and Don'ts
Finally, we want to leave you with a quick list of things to strive for and things to avoid at all costs. 
Dos
DO Develop a Strong, Clear Thesis Statement

DO Use Topic Sentences 

DO Cite Your Sources Accurately and Appropriately

DO Sketch a Basic Outline 

DO Pace Yourself

DO Proofread and Revise Your Essay Carefully
Don'ts 
DON'T Overdo It with Summaries

DON'T Start Paragraphs with Quotations

DON'T Get Overwhelmed by the Sources

DON'T Use Other People's Ideas without Citing Your Sources

DON'T Use Overly Lengthy Quotations or Paraphrases