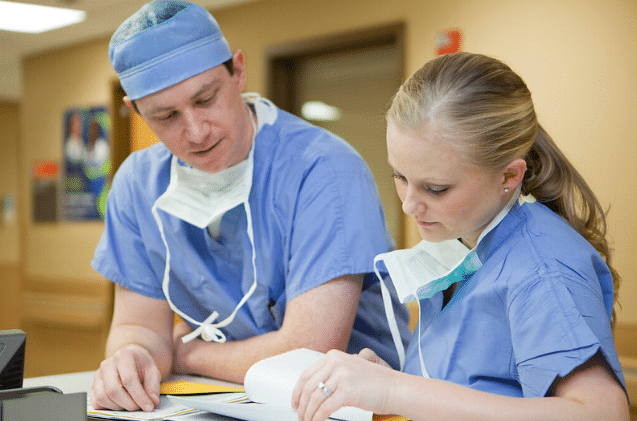 What is Residency? | Work as a Physician Under the Supervision of Experienced Doctors
Physicians who wish to practice medicine in the United States have to train at the hospital or any other medical facility. What is residency? This is a medical training program that enables residents to work as physicians but under the supervision of experienced MDs.
After a medical student graduated from their medical school, physicians have to attend a residency program. If you have not yet gone to medical school and are in the process of preparing for your exams, consider these prep books to pass the MCAT.  
If, however you are done with medical school, your next step is to enroll in a residency program at the hospital of your choosing. Keep reading to learn the length of your residency, the salary that you will get plus the number of hours that you will work.
Medical residency
After graduation, physicians are required to enroll in a program. Residency is the training all medical school graduates have to go through in order to be competent and qualified MDs.
During a residency program, students will have the skills needed to take care of their patients. They will be able to diagnose and treat their patients in various medical settings.
How long is a residency
The duration of a residency will depend on your specialization. Many programs last three to seven years. Pediatrics, internal, and family doctors take three years to complete their programs while urology and surgery programs take more than four years.

During the first year of your residency program, the first-year residents will be supervised closely by certified health care professionals. You may also need to attend lectures and conferences during your first year of residency, which will also take some of your time.
First-year residents in the United States are expecting to work up to 80 hours of duty in a week at the hospital and continue single shifts that routinely last up to 28 hours, While workdays are required about four times a month, on average.
By the end of the first year of your residency training program, you are already functioning as a real doctor.
How much do residents make?
The average salary of a resident is $61,000 according to the American Medical Association. You will be likely to earn more on your second and third-year resident than your first-year resident. Residents specializing in allergy and immunology, medical genetics and infectious disease get better salaries than residents in family, internal, and emergency medical field.
Earning a salary makes trainees or residents feel compensated enough for their duties.
Types of Medical Residency Programs
The selection of residences requires research. Electronic Interactive Scholarship and Residence Database (FREIDA) helps candidates find more than 10,000 ACGME certified residency programs.
The FREIDA database is aimed at medical school graduates who are looking for a specialist area, for example, pediatrics, family or internal medicine.
 It contains info on the number of residences available, the best time to apply, interview, and remuneration per year.
If you have an MD from an allopathic medical school, you should enroll in an allopathic medical residency. If you have a DO degree from an osteopathic medical school, you will most likely want to do osteopathic training.
By the way, you have the option of choosing between a university-related and a community-based residency program.
Residency Matching
What is the Match?
This is a system by which medical school graduates and programs "match" at the same time in order to fill medical training positions that were introduced by the National Resident Matching Program (NRMP).
Candidates need to apply first to a program where they will be invited for an interview. A group of medical professionals from the hospital will ask questions to determine if you are fit for their program. The interview will help them rank their top applicants.
You also have the chance to choose your most preferred residency program. All of the rankings of the programs and candidates are entered into a program that will match a candidate with the right program.
Before applying to a program, do some good research in order to join the right one. Avoid making errors which can leave a negative impression on your application. Proofread your application to make sure it has no errors.
During the interview, ask as many questions as possible so as to learn about the program.
Tips to Improve your Residency Application
To improve your residency application, you need to make your application stand out. Get personal. In your application, explain who you are and why you are applying for the residency.
Discuss your passion for medical field and show them that you are willing to go through hard work to treat your patients.
No Cheating.  Providing accurate information about yourself is very important. Your skills, qualifications, and interests will represent who you are. Do not submit someone's application or essay. Do not give false info or exaggerate your qualifications and experiences. 
Residency Length
The duration of a residency in the United States will depend on your specialty. Most residencies go for three to seven years while some can go up to five years. Here is a table showing residencies with their length of training.
General Surgery

Family Doctor

Pathology

Obstetrics and Gynecology

Emergency Doctor

Urology

Orthopedic Surgery

Plastic surgery

Psychiatry

Internal Doctor

Pediatrics

Neurology

5 yrs

3 yrs

4 yrs

4 yrs

3 to 4 yrs

5 yrs

5 yrs

6 yrs

4 yrs

3 yrs

3 yrs

4 yrs
As you can see from the table, the length of residency training of some programs is more especially the competitive specialties while others are less. If you are trying to choose a residency, it is good to know its duration plus the salary that you will earn.
Internal Medicine
The length of training for internal medicine is 3 yrs. You will take care of adults and your main responsibilities will include diagnosis and treatment of various diseases such as diabetes, infectious diseases, and autoimmune diseases, just to name a few.
You will train in the hospital, nursing homes, outpatient office practice, consulting services, etc.
Pediatrics
After graduating from medical school, candidates will train for 3 yrs in their program. Pediatricians take care of children who are below 18 or 21 yrs of age. A pediatrician can perform in a hospital, private practice or outpatient office practice.
Family Doctor
Family MD are like general practitioners who take care of patients of all ages. They focus mostly on families and will treat all kinds of diseases and conditions. Their length of training is 3 yrs
Neurology
Neurologists are specialized  MDs who deal with treating diseases and conditions of the central nervous system. If you specialized in neurology in your medical school, you will be diagnosing and treating the following diseases:
Parkinson's disease
Epilepsy
Ischemic stroke
Encephalitis
Malignancies of the brain
Multiple sclerosis
Hemorrhage
Sleep disorders
In addition, you will deal with diseases of the spinal cord, neuromuscular junctions, and nerves, just to name a few. The neurology residency length is 4 years.  
Salaries
Medical residency programs are a crucial aspect of medical professionals. They will not only earn salaries as they work but will gain tremendous experience that will be useful in their career.
Salaries of residents depend on their specializations and part of the country they are living in. For example, residents in hematology earn the highest pay at $69,000 while residents in family doctor earn the lowest.
The average salary of a resident is between $40,000 and $50, 000 per year.
Psychiatry
This is the branch of medical field that focuses on the diagnosis and treatment of emotional, behavioral and mental conditions and diseases. During your hospital residency, you will receive training in neurology plus deal with patients with mood disorders, depression, and substance addicts, just to name a few.
Your salary will be $60,667+ $12,825.96 in housing stipend per year.
Dermatology
This is the branch of health care that deals with human skin. Medical professionals who specialize in diagnosing and treating skin diseases are called dermatologists.
 When you have serious problems with your skin, it is recommended to see a dermatologist who will conduct various tests to determine the cause of your condition or disease then give the right treatment.
The salary of a resident in this specialty is over $60,000 per year.
Hours Worked
According to the Accreditation council for graduate medical education, trainee MDs can work up to 80 hours per week. They can also work 40 to 80 hours per week depending on their work plus their shift.
General surgery
General surgeons are required to be alert, healthy and have adequate rest before doing any operations. Some residency programs provide them with sleeping rooms, food and even reading rooms in hospital facilities so they can have the adequate rest needed before working.
Residents in this program work less than 80 hours per week.
They get 1 day off
They do not work more than 16 hours a day
They get at least 10 hours of rest before their shift
Oncology
This is an area of medical field that deals with cancer diseases. There are more than 50 types of cancer and they include skin cancer, prostate cancer, leukemia, colon cancer, thyroid cancer, just to name a few.
Duty hours for oncology residents are limited to an average of 80 hours per week. They are given 1 day off. No education and clinical responsibilities during this time. It is important for patients' safety that MDs have proper rest before resuming their work.
Residents can work 24 hours during their shift but not more than that
They should have 14 hours free after 24 hours of working
Internal Doctor
This is a branch of medicine that specializes in the diagnosis and treatment of adults. The physicians who practice internal medicine are called internists. They deal with a broad range of diseases and can treat any organ.
While a pediatrician cares for children, an internal doctor's physician cares for adults. Basic training for an internal medicine resident is 3 years. Working time is less than 80 hours per week and have 1 day off.  
Responsibilities
Medicine resident responsibilities include patient care and monitoring, counseling, providing medicine backup assistance, attend seminars, correspond with clients, discharge letters, create medical data and others.
Dermatology
This is a medical field that specializes in skin health, nails and hair. Dermatologists have a special role of revitalizing the appearance of hair, skin, and nails of their patients.  
The most common skin conditions and diseases dermatologists can treat include acne, hair loss, fungal infections, eczema, dermatitis, rosacea, psoriasis, warts, skin cancer, herpes zoster, shingles and others.
Responsibilities of dermatologists include the following:
Under the care of qualified dermatologists, all residents are required to diagnose and treat various skin conditions and diseases.
Perform dermatologic procedure such as punch biopsies
Provide careful follow-up
Demonstrate leadership in their healthcare facilities
Provide teledermatology consultation service and many more
Family Medicine
Family medicine is a medical specialty devoted to the family. Family medicine doctors provide care for all genders and ages. The scope of family practice includes the treatment of all diseases, conditions, and organs.
Under the supervision of attending physicians, common diagnostic and procedures that family practice residents are expected to perform include the following:
Allergy injections
Physical exams for sports
Palliative care
Mammography, pelvic exams, and Pap smears
Newborn and well-child care
Sigmoidoscopy, densitometry and colposcopy
Norplant removal and placement
Norplant removal and placement and many more
They are also expected to:
Provide competent and compassionate care to their patients.
Show professionalism when communicating with family members plus their fellow residents.
Monitor patient's physical, emotional and medical status
Order medications and examinations for patients
Prepare and keep a record of patients
Arrange discharge and aftercare
Provide counseling for patients
Oncology
This is an area of medicine that deals with the diagnosis, treatment, and prevention of cancer. A medical professional who practices oncology is referred to as an oncologist. There are 3 types of oncologists: surgical oncologist, medical oncologist, and radiation oncologist.
Surgical oncologists use surgery to cure cancer, medical oncologists use medication to eradicate cancer while radiation oncologists use radiation to eradicate cancer. Job responsibilities of oncology residents include the following:
Under the strict observation of experienced oncologists, a resident is expected to provide medical care to patients diagnosed with cancer.
Conduct physical examinations to determine the severity of cancer
Provide emotional support to patients
Take patient histories
Have experience in important surgical procedures
Be familiar with radiation therapy and chemotherapy
Be able to do a blood transfusion
Be able to recognize and treat oncologic emergencies and many more
FAQs:
1. What is Residency?
Residency program or postgraduate medical training is specifically a stage of graduate medical education. Residency is a medical training program that enables first year residents to train in their respective medical fields but under the supervision of certified health care professionals
2. How many hours do medical residents work a week?
Residents will be going to complete 40–80 hours a week, depending on their specialty and rotation within their specialty. Residents were occasionally logging 136 (out of 168) hours in a week, while some studies show that about 40% of this work is not direct patient care but ancillary care, such as paperwork.
3. What are the most difficult medical residency?
As data of the year 2018. Here are the top 5 most competitive specialties - those that are the hardest to get into:

1. Dermatology
2. Plastic Surgery
3. Neurosurgery
4. Orthopedic surgery
5. ENT (Otolaryngology)
4. Which medical residency is the easiest?
In the United States, the easiest residency programs to get into is Family, Psychiatry, and Pediatrics. Easiest to go through is Psychiatry, then Family Medicine and PM&R.
Watch this video for more detailed information.
5. What comes after residency?
After your residency program training has been done, what comes after your residency is called the fellowship. Fellowship training is part of the process of becoming a specialist physician.