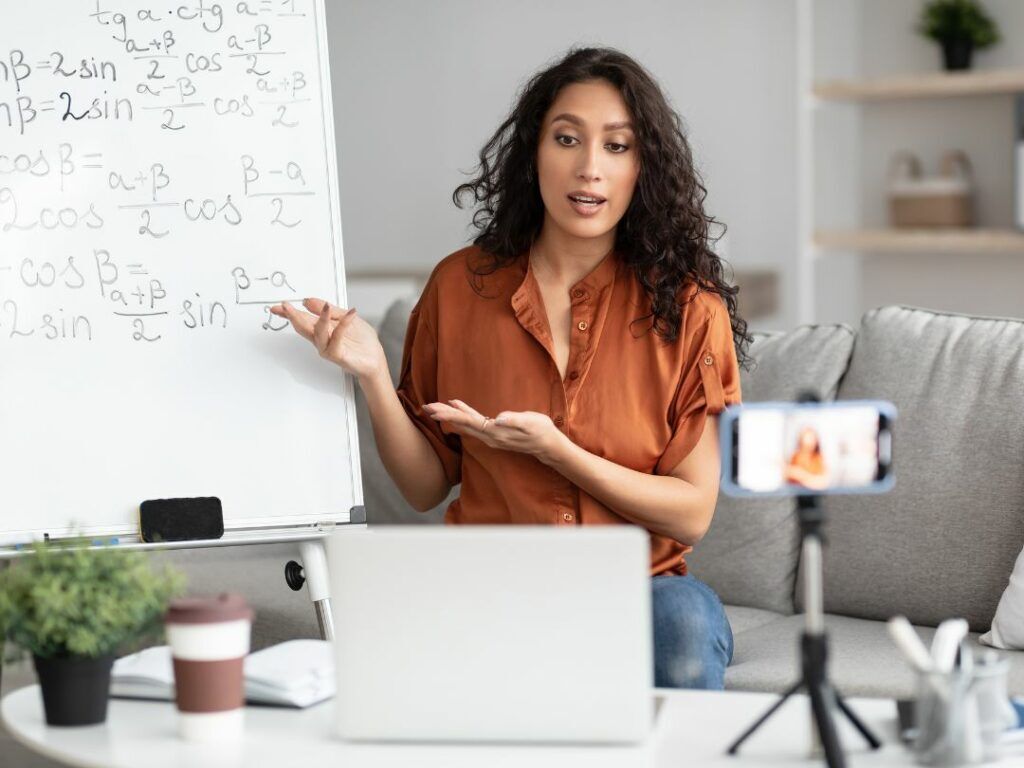 5 Best Online Math Tutoring Programs [2023]
As students progress through elementary, middle, and high school, math can become a much more complicated subject to tackle. Students who were once strong math students might now find a specific subject difficult. Math ranges from elementary math, the usual adding and subtracting that we all know and love, past these basic foundations to levels like calculus and pre-algebra. 
As a student progresses, it's normal to feel overwhelmed by the increasing complexity of the subject. One of the best ways to tackle this hurdle is to hire an online math tutor. To make things easier for you, we've compiled a list of some of the most top-rated online tutoring services on the market. Let's take a look!
Get Started With Learner. We Guarantee Better Grades for Struggling Math Students!
At a Glance:
What are five of the best online math tutoring services available?

Learner, Wyzant, Varsity Tutors, Princeton Review, and Prodigy Math Tutoring are five of the top online tutoring services on the market

How to find the right online math tutor:

Consider what your goals are and what you want to get out of your online math tutoring experience. Then, find an online service that is aligned with your interests

Benefits of online math tutoring:

By opting for online tutoring instead of in-person tutoring, you have access to better quality tutors, more flexibility and you are able to save both time and money, among other things. 
Ready to Find the Right Online Math Tutor? Take the Quiz Now!
1. Learner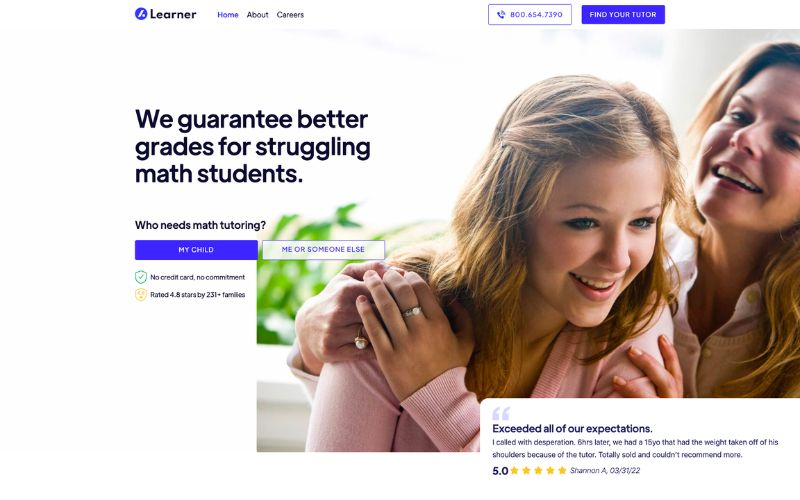 Learner is an online tutoring service that specializes in math. Their primary function is to be a one-stop resource for students who need math tutoring and parents hoping to find online math tutors. Online tutoring services cater to a variety of students. Students thrive on personalized tutoring sessions and are guaranteed better math grades.
Your first session begins within the first seventy-two hours of a five-minute call, but the first thing you must do is fill out a short questionnaire. After completing a brief phone consultation, Learner will match you with a compatible tutor in its network. A state-of-the-art online classroom, highly qualified tutors, and guaranteed improvement are just one click away from Learner. 
Learner comes recommended by many previous and current customers, evident by their glowing reviews. A mother, Corrinne Barton, stated her daughter, who once hated math, now looks forward to her math sessions at Learner.
Pros

Onboarding is quick and simple

Improved grades are guaranteed

High-quality tutors

State-of-the-art online classrooms

Recorded sessions

Complimentary first session

Cons

Only online math tutoring services are available
Bottom Line: Learner is a perfect one-stop shop for math tutoring. It covers various topics and offers superb tutoring with a one-on-one personalized growth plan. Each student is thoroughly assessed, and growth is carefully tracked and guaranteed. 
2. Wyzant
Choose Wyzant for a more personalized experience. Connect with expert tutors with this math tutoring service. Pick Wyzant to ensure that your virtual environment matches an official classroom's.
One-on-one tutoring is the primary focus with Wyzant, and students also receive a customized learning plan from this service. This tutoring experience is low-cost and easy. Luann from Chicago credits Wyzant for helping him pass his math course, a subject he would've otherwise failed. 
The most significant difference between Wyzant and many other online tutoring services is that Wyzant bills its tutors as independent contractors. Wyzant is primarily a private tutoring marketplace that allows you to connect with well-vetted tutoring.
Pros

Other subjects aside from math are available

The first tutoring session is free if the tutor isn't right

Available online and in-person

Tutoring available for homeschooled students

Cons

Results not backed by a money-back guarantee

Tutors are outsourced and not trained by Wyzant
Bottom Line: Wyzant's biggest superpower is its ability to connect each customer with a tutor of their choice. Wyzant is a vast marketplace-like arena where parents can search through expert tutors they have vetted. 
3. Varsity Tutors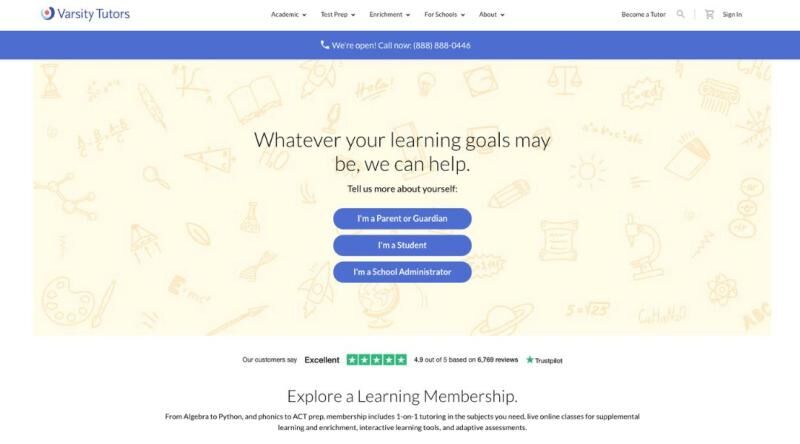 Varsity Tutors is another highly-rated platform for connecting math students with certified tutors. Tutors at this popular online service go through an application process that examines a tutor's math and teaching skills to ensure that all tutors in Varsity Tutors' network are excellent at what they do. 
To get started, fill out the questions on the front page of Varsity Tutor's website. From there, you'll be connected to a marketplace of teachers ready to help you conquer math. Varsity Tutors can help with math homework, elementary school math, and high school students.
Pros

A wide variety of tutors are available

A variety of subjects are available

Cons

Only online math tutoring services are available

No customized learning plans
Bottom Line: This is an excellent option for those in the tutoring market looking for as many options as possible. Varsity Tutors offer support in various subjects, test prep, homework problems, and more. Take your learning journey to the next step by signing up with Varsity Tutors.
4. Princeton Review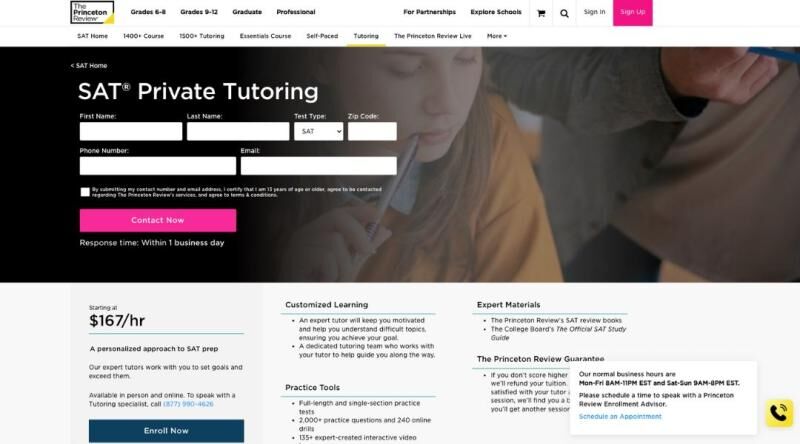 The Princeton Review is a favorite tutoring center for many, and for good reason. This tried and true tutoring platform touts tutoring sessions available 24 hours a day. Princeton Review has a variety of math courses. Astoundingly better grades are guaranteed with this tutoring platform. 
Princeton Review connects you to an enrollment advisor who leads you to the right place. Connect with a legitimate tutor doctor, someone dedicated to bringing out the best in you. No matter the grade level, Princeton review has a tutor for you. Check out their website for more information on the math subject you need.
Pros

Tried and true tutoring service

Great reviews

Test preparation available

Homework help

Cons

Primary and SAT-based school.

Not all math courses are offered
Bottom Line: The best part about Princeton Review is the history and legacy behind the platform. Connect with this platform for tutoring with a satisfaction guarantee.
5. Prodigy Math Tutoring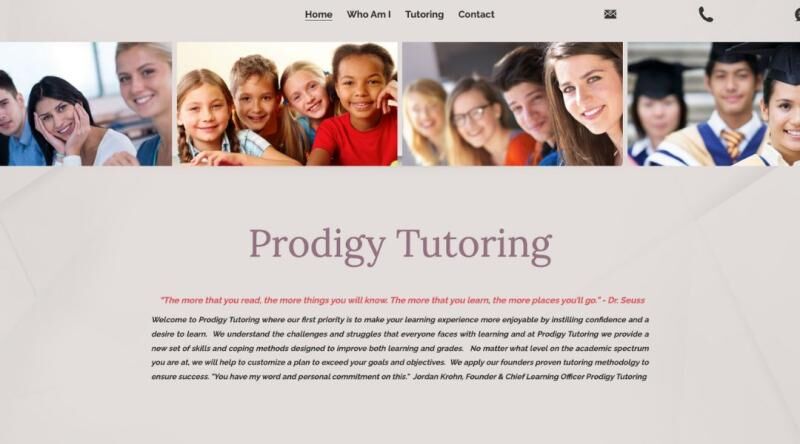 This math tutoring service offers a different approach to algebra and other math subjects. Prodigy math tutoring is a tutoring service that teaches kids math through an online gaming platform. Learning is made fun through imagination-filled math games that stimulate exploration. It's an atypical math tutoring experience that is unique and fun-filled.
Skeptical? That's okay. Many prodigy math tutoring clients were skeptical at first, too. The good news is that reviews on their site show that prodigy math tutoring is an excellent way to boost general math skills. When asked about the educational impact of Prodigy math tutoring, 96% of parents were satisfied with the results. More importantly, students enjoyed math with this method.
Pros

A fun way to learn math

Learn at your own pace

No expectations or set time to learn

Oriented explicitly towards math skills

Cons

Not a one-on-one math service

Private tutoring is not available

No personal assessment

Individual attention is not available
Bottom Line: If you're looking for a simple way to engage with math that's easy to use, simple to get across the concepts and includes fun and challenging games, this is the platform for you. This platform is an excellent alternative for someone looking for something a little different.
How to Find the Right Online Math Tutor?
If you are searching for an online tutor, you are not alone. In the last few years, studies found that 1 in 5 upper-income families hired a tutor to aid with their child's education. For the most part, finding the right math tutor is a complex and time-consuming process. But it doesn't have to be that way. Plenty of platforms do the heavy lifting of matching you with the most compatible tutor that suits your interests, personality, learning style, and goals. For instance, if you are on the hunt for a calculus tutor who specializes in visual learning, an online tutoring service can match you with an appropriate tutor in its network that fits that description. 
Math tutoring is available online and in person. Finding the right math tutor for you starts with distilling everything down to preference. Learner, Wyzant, and Varsity Tutors offer online math tutoring, but not every platform offers in-person tutoring. Maybe you are looking for a personalized lesson plan. In that case, narrow down your options based on your need. After that, all you have to do is research, research, and research.
Online tutoring vs. In-person tutoring
Online tutoring offers kids and parents flexibility to get the help they need by working around a schedule that works best for them. Tutoring sessions can be booked anytime and anywhere based on need. On the other hand, in-person tutoring is often restricted based on things like travel time and proximity to the tutor.
Benefits of Online Math Tutoring
It is well-proven that one-on-one tutoring is more effective than learning in a large classroom setting. One-on-one tutoring promotes greater student understanding and increased motivation. That said, there are also advantages of online math tutoring over in-person tutoring. 
Access to quality tutor
Arguably the best part of online math tutoring is the accessibility to online tutors from around the world. Successful online math tutoring requires working with experts, and it's better not to limit your availability to expertise. For instance, why settle for an elementary school math teacher who lives in your hometown when you can work with an IB math tutor who lives on the other side of the country? That's why many parents prefer the online classroom. Students can get math help from an expert no matter the distance.
Flexibility
People are looking for the most convenient and stress-free option when it comes to math tutoring. Online math tutoring shouldn't be challenging. Do you have extracurricular activities or an after-school job? Is it already tricky for you to balance your busy schedule? When working with online tutors, it's easy to squeeze in a session whenever works best for you, whether first thing in the morning before school or the night before a big exam. 
Save on Gas
Most people opt for online math tutoring to save money on the commute, whether they are spending money on gas or public transportation. Parents looking for math tutors should consider hiring online tutors if they are hoping to cut costs. Working with an online tutor means you never have to leave the comfort of your home. The rising gas prices should be on the mind of all parents or students interested in saving money.
Save Time
Online tutoring allows you to save more than just gas money – it will enable you to save time. For busy students balancing a heavy courseload, after-school sports, and part-time jobs, saving an hour commuting to and from a tutoring center can be incredibly valuable. 
Travel time is nonexistent when enrolled in an online classroom. Online math tutors don't require traffic or travel time. Picking up your kids from school or organizing transportation does not exist with remote tutoring. 
More Options To Choose From
Parents looking to branch out from their local tutoring spots should look into various platforms available online. Learner, Wyzant, and Varsity Tutors online math tutoring all offer top-notch tutoring services with technology that mimics the feeling of an in-person tutoring session. 
How We Chose the Best Online Math Tutoring Services
Reviews by parents are the best indicator of a quality tutoring service. Finding a good review is the best way to identify online services that have consistently impacted students of various ages and learning styles. Reviews also let us know how reliable each service is at boosting student grades, improving classroom confidence, and increasing student interest and engagement with complex subjects like math. 
Still Not Sure? Learn More About Learner Here!
Frequently Asked Questions
What are online math tutoring services?
Online math tutoring services connect students with virtual tutors. A child's math skills are individually attended to during these lessons. Students can work with math tutors from all around the world with online math tutoring services.
Who should use online math tutoring services?
Anyone struggling with math should consider private tutoring. It is well-proven that one-on-one tutoring is more effective than learning in a large classroom setting. One-on-one tutoring promotes greater student understanding and increased motivation. Licensed teachers are available for hire, so anyone needing extra help should consider entering the digital classroom space.
How much do online math tutoring services cost?
Online math tutoring varies by service. Some services, like Learner, have a set price depending on the subject and the amount of tutoring needed. The best way to determine how much each online math tutoring service costs is by completing an individual assessment. Most online tutoring sessions range from $20-60 an hour.
What should you look for in online math tutoring services? 
Customized learning plans are high on the list of things that those seeking online math tutoring should consider. Individual tutoring that caters to unique learning styles is critical.
What are the pros of using online math tutoring services?
Most online math tutoring services offer free consultation and matching services. Working with online platforms also allows you to experiment with multiple services without wasting time driving from place to place.
What are the cons of using online math tutoring services?
Full-time tutors in person usually give excellent customer service in the sense of being physically there. Although the lack of a physical presence might hinder a personal connection between students and tutors, studies show that kids still thrive on an online platform.
What should I look for in an online math tutoring provider?
A service with highly qualified tutors, reliable customer service, and state-of-the-art online classrooms are all factors to consider when looking for an online math tutoring provider. Proof of an increase in academic performance is also preferable.