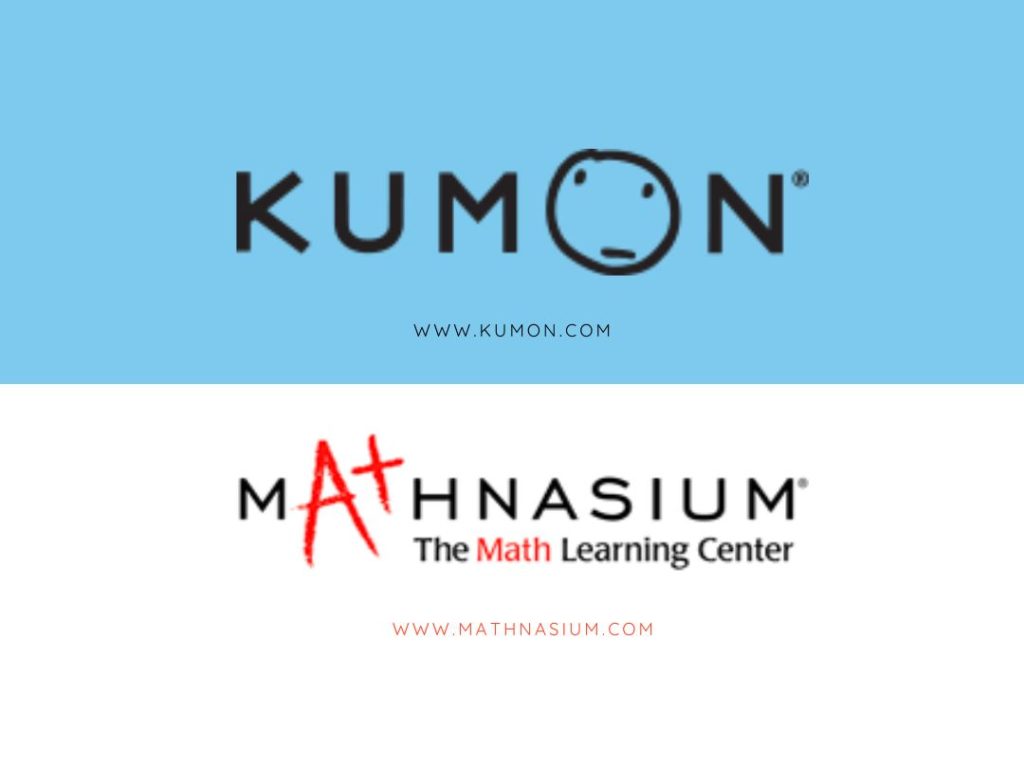 Mathnasium vs Kumon Comparison – Which is Best
Mathnasium and Kumon are two online math tutoring platforms and tutoring services that offer basic and advanced features that apply to teachers and learners. These two tutoring platforms help students with their learning process by giving them access to tutors who fulfill their academic needs in math. They are a part of this massive number of online tutoring programs, and as more of them become legitimate, the consumer's choice becomes more complex as they try and find a reliable private tutor.
In this review, we will explain why these two services reign supreme over most tutoring marketers, and we will break down the pros and cons of Mathnasium vs Kumon. We will also explore which tutoring services are best suited for improving a student's math skills and which service gives a student the most opportunity to study the curriculum from their math class.
We also compare Mathnasium vs Kumon to give more context. We break down the different features for each program that may influence the decision of which tutoring service to use and invest in. Here are some surface-level differences between the two math tutoring programs.
Mathnasium
Product Quality: Mathnasium's math program encourages students to develop their math skills. Most parents of high school students feel that their children benefit from this tutoring program.
Academic Results: 94% of parents have reported improvement in their child's academics. 90% of students saw improvement in their school grades after using Mathnasium.
Delivery: This service offers in-person and online meetings to better explore math concepts.
Support: Mathnasium allows the student to have their personalized tutoring plan focused on improving their math skills to meet the expectations of their school curriculum. 
Kumon
Product Quality: Kumon is a rigorous academic tutoring program that prides itself on its structure. Kumon has an intense focus on repetition, and while some students benefit from this structure, other students struggle with the experience. This inconsistency leads to parents having a broad perspective on the site and its validity as a tutoring site.
Academic Results: Students' skills were over a year ahead of the national average. Math students score an average of 5.27 points higher on Math SATs.
Delivery: This service offers in-person and online meetings to better explore math concepts.
Support: Kumon is focused on worksheets and contains fewer opportunities for one-on-one sessions where the student can 'learn' math. Tutors grade these assignments on a time scale of 30 minutes, and students complete most of the projects at home with their self-learning skills. 
Why You Should Consider Online Tutoring
Online tutoring services have many stylistic and results-based benefits that give it different utility than traditional school settings. One of them is that for subjects with rigorous testing, such as science and math, online tutoring is the best way to understand the material and increase average test scores.
Also, depending on the institution, it isn't easy to get individual meetings with teachers. Online tutoring offers an easily accessible method of finding time for one on one sessions with an educator who will be able to help the student comprehend the assignments and curriculum better.
Mathnasium Overview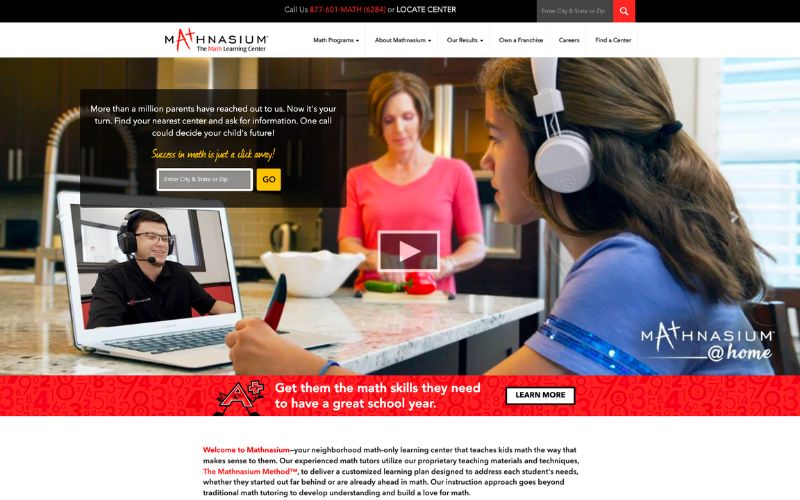 What is Mathnasium?
Mathnasium is an online tutoring center founded in 2002 to allow children to enjoy math and improve at math without being intimidated by large classroom settings or in-person lectures. Covering the subject of math, Mathnasium offers tutoring sessions that span from 30 minutes to 90 minutes. 
Mathnasium tutors are highly touted as some of the most well-trained and approved tutors of Math in the entire world. Most centers suggest 2-3 tutoring sessions a week to keep the student learning at the same pace while catching up with homework and test prep. 
Pros:
A hands-on learning environment building upon the student's previous knowledge

Mathnasium offers customized learning plans for each student individually

Self-scheduled tutoring sessions that are intent on making the students learning experience better

Offers both in-person and online sessions
Cons:
This tutoring program only applies to the math curriculum

More expensive than other contemporary programs depending on how long the sessions are

The student does not get to receive tutoring less from the same tutor every time

Not much one-on-one tutoring
Bottom Line: Mathnasium is an excellent option if your child only struggles with math but is OK with other subjects and wants a cost-effective tutoring program.
How Does Mathnasium Work?
Mathnasium follows a 30-year-old methodology that includes over 5,000 pages of material given to the student. Students work directly with an instructor on material tailored to each child. The tutors send progress reports home regularly. Typically, the child spends a learning session at the Mathnasium center twice a week, but they also have Mathnasium at home, which meets through video calls. The student is first evaluated, then prescribed a personalized and prescriptive learning program. 
How Much Does Tutoring Cost?
On average, tutoring with Mathnasium costs $200-300 a month. But tutoring prices may change drastically by region and zip code. And hourly tutoring costs vary depending on the tutor's qualifications. If the Mathnasium tutor is a college student, they may charge around $30 an hour, teachers charge about $45 an hour, and calculus tutors can charge even more.
After a certain number of master checks, the student receives enough punches on their mastery card to pick out a prize from the Mathnasium prize cabinet. This method keeps every student engaged and allows them to track their progress and see results.
Is Mathnasium Legit?
Mathnasium is a legitimate online marketplace for tutors and students alike. Many students who do not enjoy math enjoy it with the use of Mathnasium.
What Are Customers Saying About Mathnasium? 
Regarding Mathnasium, the reviews show that the overall consensus seems to be that the students who use the site are incredibly optimistic about the experience. The employees are seen as bright, helpful tutors. Students and parents believe it's one of the top sights in terms of assigning quality tutors to students and giving them the best opportunity to learn about math.
Overall, tutors are well-trained and friendly while capable of keeping students engaged in the learning process while they frequent the center.
Kumon Overview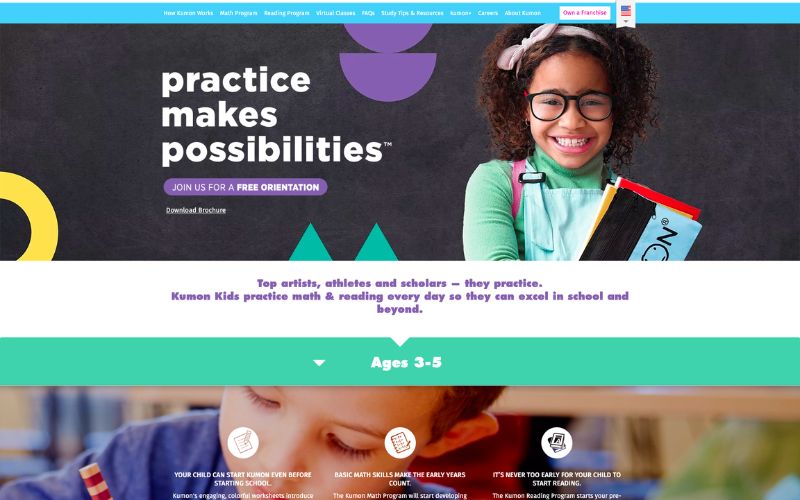 Kumon is a dual math and reading program founded in Japan in the 1950s. Kumon has tutoring centers all over the country, and these tutoring centers convey Kumon's teaching method, which has been consistent for over 60 years. This method is called the Kumon method, where the students receive just enough guidance to complete the assignments on their merit.
"With the Kumon Method, students study independently from an early age and develop both a high level of academic ability and the ability to learn independently or what we at Kumon refer to as "self-learning" ability. As a result, after children who have done Kumon grow up and enter the workforce, they can think of solutions by themselves even when faced with difficult challenges. All in all, the skills that students gain through doing Kumon go a long way to helping them to achieve their goals and dreams" (Kumon). 
What is Kumon?
Kumon is a learning system famous for drilling the basics of math and reading into children for the past sixty-plus years. Instead of using personalized learning plans, Kumon focuses on the basics and tests a student to the appropriate level while still keeping the program individualized. Once they master a specific skill set, they can move on to the next level in mathematics or reading while operating within one of the Kumon centers.
Pros: 
Kumon has a structured curriculum with clear guidelines.

Kumon offers reading and math curriculums.

Kumon is less expensive than other tutoring curriculums.
Cons: 
Kumon is individualized but not in a way that promotes individual thinking.

Kumon supplies extra homework that can frustrate students.

Kumon employs tutors and methods that support repetitive learning.

Kumon is great for students who need repetitive learning but not for anyone who needs one-on-one help and is very useful for those that need to remember specific problem-solving steps.
Bottom Line: Kumon is an excellent, cost-effective option for students who want a structured curriculum. But it's not so hot for students wishing to partake in an innovative tutoring program as Kumon has a lot of repetition.
How Does Kumon Work?
Kumon might seem like Mathnasium on the surface. Both programs offer in-person teaching centers with some online services that aren't as well developed as other online tutoring sites. However, the teaching methods are entirely different between the two centers. 
Kumon focuses on repeating the basics of math and other subjects thousands of times until it is drilled into a student's head. Mathnasium attempts to optimize the student's learning experience. Once your child takes an assessment test, they will be assigned to a slightly lower class than they tested. This ensures they have mastered all the basics of Kumon's curriculum. 
At Kumon, students work through worksheets dedicated to the current issue they are trying to master and have more individualized learning based on these assignments instead of conducting group assignments. They don't bring in their homework or move on until they have learned that concept. Kumon also sends homework back to the child's house for about 30 more minutes of work that evening. 
Kumon's tutors are often high school and college students, and they charge differently depending on their qualifications. Instead of giving one-on-one advice and mentoring a small group of students, these tutors are in charge of up to a classroom full of children working on the same subject matter. They are available to answer questions if necessary but do much less actual tutoring. 
How Much Does Kumon Tutoring Cost?
Kumon costs anywhere from $100-$200 per month, depending on the location and subject matter. High school students and higher levels may cost more, but the sessions are all the same length. 
Kumon students attend in-person meetings twice a week for the duration of their dedicated meeting times. Most Kumon students have about 30 minutes of extra homework to complete every week. This is included in the cost. The main variant in cost for Kumon students is whether they are enrolled in tutoring for math, reading, or both.
Is Kumon Legit?
Kumon is legit, and while children aren't as excited to go to a Kumon center as they are for Mathnasium, the results are very similar. However, the business is not accredited Better Business Bureau, which makes the organization's reviews an important source of information. 
What Are Customers Saying About Varsity Tutors?
Based on the reviews, Kumon has more mixed reviews than Mathnasium, with a good portion of Kumon's students and parents saying that there wasn't enough personal support and that Kumon was a lot of work. However, many other customers emphasized that the freneticism of Kumon is what produces results – by repeating a formula hundreds of times, the idea is that the student will retain information at a higher rate. 
One of Kumon's main teaching points is that the students are put into lower testing brackets than give them valuable test-taking experience. This system ensures that every student learns every concept and how to apply that concept educationally. However, it can lead to students doing work they already know or redoing work from several grades below them. 
Mathnasium vs Kumon Tutors Similarities
Both platforms offer minimal online tutoring while prioritizing in-person tutoring options for math tutoring.

Both platforms are tutoring centers that offer repetitive assignments.

Both platforms are cheaper than other one-on-one tutoring intensive online tutoring programs.
Mathnasium Tutors and Kumon Tutors are both tutors that offer minimal online tutoring and supply students with tutoring centers that they can attend. All for the sake of improving their understanding of math-based subjects cost-effectively.
Mathnasium vs Kumon Tutor Differences
Mathnasium offers multiple one-on-one sessions for students to take in their tutoring centers, while Kumon acts more on group facilitation. 

Mathnasium has a more extensive hiring process which contributes to students not being as optimistic about the experience of working with Kumon tutors.

Mathnasium Tutors will allow their students to bring in tests and assignments from their classes while Kumon tutors.
Mathnasium has a better reputation for its methods because they employ more one-on-one tutoring sessions than Kumon. The tutoring experience is also more tailored to each student's individual needs in math, while Kumon has a strict regimen that their tutors follow.
Mathnasium vs Kumon: Which is Better?
When deciding between Mathnasium and Kumon, the decision depends mainly on what your child needs to best put them in a position to learn. Some younger students need structure, regiment, and repetition to learn all the material available to them. Other students work better with the possibility of rewards and visible progress. Specifically for college students, Mathnasium's methodology is better.
If your child needs help with both math and reading, Kumon is the better option for the two. It's the only one that offers both at the same location. Kumon is also slightly less expensive and has a more flexible schedule. However, it sends extra homework to the student and isn't as flexible in terms of how the curriculum is taught. 
For a more personalized approach to learning math, Mathnasium is the better choice. The student will have a more personalized relationship with the tutors at the center and will receive a stronger foundation of math basics while being able to share their math homework with those tutors at their own pace. They might learn math through repetition and memorization at Kumon, but Mathnasium helps them to take control of their knowledge and apply it. 
Overall, Mathnasium is the better math program for most students as most younger students prefer the more flexible tutoring style and the ability to bring in school homework instead of receiving extra homework, which Kumon promotes. Kumon has its advantages, but the method they use to teach math is more contentious than not, and learning professionals argue that it's important for a child to take control of their education to some extent. If you want your kid to like math, put them in Mathnasium!
Why We Recommend Learner Instead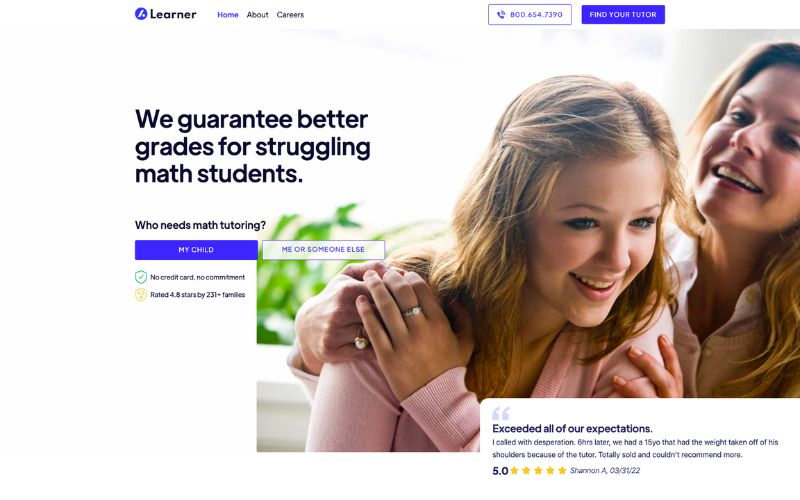 We recommend Learner instead for most students because Learner allows for a fully customized learning plan from the start while also giving the students or the parents of the students some influence on who it is that will be tutoring the student. So, while the other two programs give students massive restrictions either in their choice of a tutor or the flexibility of their tutoring plan, Leaner gives the student the ability to control both.
A common theme amongst many of the reviews for Learner is that there is a surplus of examples where tutors helped their students learn by adjusting their teaching methods. Whether it's by infusing more positivity into their tutoring, allowing the student to solve the problem on their own, or simplifying the learning process, Learner employs many world-class tutors who are pedagogy experts and comfortable customizing their lesson plans to suit the student's own pace and deliver in the student's preferred learning style.
Beyond the subject matter, Learner tutors help define trajectories after the passing grade so that the students understand how to improve even further after the studying sessions are complete. Learner is a more flexible tutoring platform that gives the options of how they want their tutoring experience to go back to the students.
Frequently Asked Questions
How much does tutoring cost?
The cost of tutoring changes depending on which program the student uses. If it has a set amount that the tutor determines, then that cost typically varies between $25-$60 an hour. However, that price can go up and down for any tutoring program. Some programs are more lenient and cost anywhere from $100-300 a month, depending on how many sessions the students attend.
How much should I pay my tutor?
You should only pay your tutor if your experience with the session was valuable and contributed to your learning. Many tutoring programs have policies stating that if the tutoring session isn't beneficial or doesn't appear as it will benefit you, you should be able to acquire a refund.
Is a tutor worth it for your child?
The tutor is worth it for your child if they need help advancing their grades. Tutors are some of the most surefire ways to increase a student's grade in any subject. Tutors help teach students about the material and help them comprehend the material in a way that is fit for test taking.
How can I find a tutor online?
For tutor programs where you get to control who your tutor is, you can inquire for free on sites like Learner. If you wish for a tutor to be assigned to your students out of many qualified candidates, you can look online for other services that connect you with reputable tutors. 
Is online tutoring better?
Online tutoring is more available, cost-effective, and gives some interesting technological tools to the student. The ability to record lectures and have video lectures sent to the student is a significant benefit that most in-person tutoring doesn't have.